At KAT Laser Salon, we strive to be the ideal choice for clients who believe in the importance of bespoke facials as a targeted approach to skin concerns.
Our professional therapists can perform extractions (if necessary) and examine your skin to determine what we can do to make you look your best.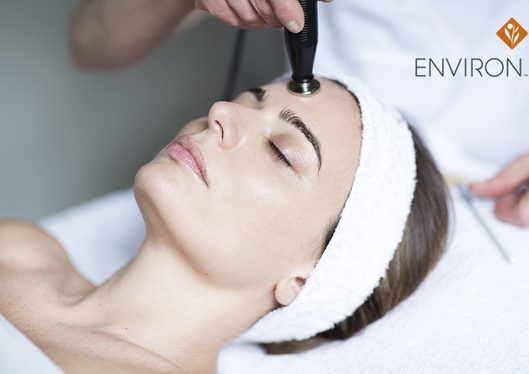 Facials on their own are rarely enough as a healthy, youthful-looking skin requires routine caring and loving that extend outside the beauty clinics.
Your daily skincare routines matter greatly so at KAT Laser Salon, only the finest quality and well-researched cosmeceuticals are recommended to promote a healthier, more refined skin.
Our facials are complimented by Environ products, which have been scientifically-demonstrated to reverse sun damage and stimulate healthy cellular functions that ageing takes away.
Environ's unique Cool Peel is a non-invasive, intelligent skin renewal system developed by Dr. Des Fernandes to safely and effectively help refine, revive and brighten skin. Can be customised to assist in reducing the appearance of ageing signs, dehydrated or blemish-prone skin.
The best facial to start with is our famous signature treatment that combines traditional relaxation and indulgence with amazing skin balancing and correcting results. Customised to suit your needs. Cleanse, steam, exfoliation, extractions, pampering massage, hydration mask and intense vitamin application using only the finest anti-ageing products.
Begins with a triple cleanse, anti-bacterial steam and some light extractions. A soothing Vitamin C mask is applied and - when finished - is followed by fresh Vitamin C Iontophoresis for deeper penetration of Vitamin C or a unique combo of Collagens and Hyaluronic acids alleviate dryness, ensure more even tone and UV protection.
The Environ DF Machine provides treatments that are at the forefront of scientific skin care as it allows for effective infusion (up to 4000%) of active serums and peptides into skin via the unique combination of Low Frequency Sonophoresis and Pulsed Iontophoresis. This treatment is utilised with customised Environ products that contain optimal strengths of Vitamin A, C and growth factors to make skin more radiant and more resilient as they reverse ageing signs and repair damaged DNA
This treatment combines the effectiveness of two intense procedures to provide the ultimate results for skin aging.
The microdermabrasion will slough off the top dead skin cell layer, minimising pores and allowing for vitamin infusion to penetrate even deeper for an amazing glow and texture. An ideal treatment for more congestive skin types and will give you a clean, glowing complexion.
Antibacterial steam, triple deep cleanse, customised exfoliation, followed by a vitamin and antioxidant moisturiser and sunscreen. This facial is a great maintenance treatment and your skin will glow after this relaxing pick me up.
This treatment involves deep pore cleansing to remove blackheads, milia and congestion from skin to provide a smooth, even texture while also treating and preventing mild breakouts through gentle exfoliation with AHA or BHA products to dissolve excess sebum and lift of dead skin cells.
A soothing, calming mask is applied afterwards to hydrate skin and soothe any redness. A fastastic treatment for acne and oily skin prone to breakouts.
Triple cleanse, antibacterial steam, customised gentle peel exfoliation, hydrating customised mask which intensely, calms, soothes and hydrates the skin and is followed by a vitamin application. This Facial is customised to suit your skin needs. Perfect for instant, visible results.
Triple cleanse, gentle peel followed by infusion of essential skin Vitamins A, E and C to enhance natural protective barrier against irritants. Ideal for sensitive skin or rosacea.
*Course of 8 weekly sessions recommended for optimal improvements. Includes 2 complimentary Alginate masque to soothe and minimise dryness.
A full facial including extractions. This treatment gently sloughs off dead skin cells on the surface and provides your skin with a renewed, smooth and even texture with impurities and blockages removed. A cooling, soothing mask is applied afterwards to calm any irritation and reduce redness.
The ideal option for a packed schedule.
A session begins with a triple cleanse then microdermabrasion for smoother texture. Finishes with a Vitamin Serum application.
Triple cleanse, antibacterial steam, exfoliation and Blue Light to kill acne bacteria, soothe and calm the skin. Designed to treat inflamed or infected acne breakouts in a short amount of time.
*Course of 8 sessions recommended
A deep pore cleansing treatment using Environ peels with focus on dissolving and removing excess sebum while acne bacteria are targeted with Blue Light LED Therapy; skin is then soothed with a mask. Includes a hot towel massage for shoulders, arms and hands.
*Course of 8 sessions recommended
Come in with make-up free skin and enjoy a relaxing session of LED 830nm light which stimulates your cell functions and boosts collagen production. Perfect for maintenance sessions in-between facials.
*Course of 8 sessions recommended
Triple cleanse, antibacterial steam, exfoliation, extractions, LED, relaxing hand and arm massage and vitamin serum application.
*Course of 8 sessions recommended
Triple cleanse, exfoliation, antibacterial steam, extractions and customised mask. Introducing FDA approved Heallite 830nm which stimulates cell repair, giving your skin an amazing glow, plumping out fine lines and wrinkles with no down time or irritation. It's followed by a soothing neck, shoulders, arms and hands massage with hot towel and intense vitamin serum application. Increases hydration, cell turnover, reduces pores, sun damage and makes the skin glow with health. Great for weddings and special events.
*Course of 8 sessions recommended